---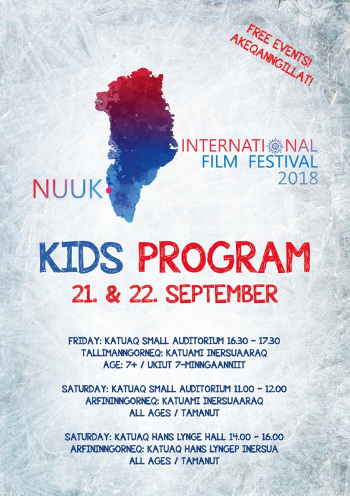 | | |
| --- | --- |
| Title: | NIFF - Kidsprogram for all |
---
The Owl and the Lemming
The oral history of Inuit is filled with many folktales, legends, and myths. In this traditional story, a young owl catches a lemming
to eat. Inuit stories are often instructive, and with this fable, children quickly learn the value of being clever and humble, and why pride and arrogance are to be avoided.
This short puppet film utilizes composited photographs and a set made with actual Arctic plants and lichen to create an authentic retelling of this ancient Arctic fable. This short film provides a glimpse of traditional Inuit values and beliefs.
3 min
Ukaliq & Kalla Go Fishing
Ukaliq and Kalla Go Fishing tells the story of an ice-fishing trip taken by two unlikely friends—Ukaliq the Arctic hare and Kalla
the lemming. Well-meaning but impatient, Ukaliq can't catch a single Arctic char! Good thing Kalla is there. Embodying the calm, thoughtful nature of traditional hunters and those who live in the Arctic, Kalla shares his wisdom—and his snacks—with his unprepared friend. This fun, the educational short film shows how important it is to be patient, kind, and prepared for whatever comes.
5 min
The Little Folk of the Arctic
In the folklore of most cultures around the world there are stories of magical little folk. And the Arctic is no exception. Inuit traditional knowledge is filled with references to many different races and tribes of little folk. These beings always try to avoid human encounters, but over the years Inuit hunters and shaman have gathered stories and experiences to help us understand
these small inhabitants.
3 min